Back
Roberta Sheffield Beats the Heat with a Win at the Al Shaqab CPEDI 3*
Doha, QAT, is the epitome of a modern city, full of gleaming towers of steel and glass. Adding to the city's brilliance from March 7-9, 2019, was Canadian Paralympian Roberta Sheffield, who dazzled the crowd with her 10-year-old mare, Fairuza ("Wonky"), during the CHI Al Shaqab CPEDI 3*.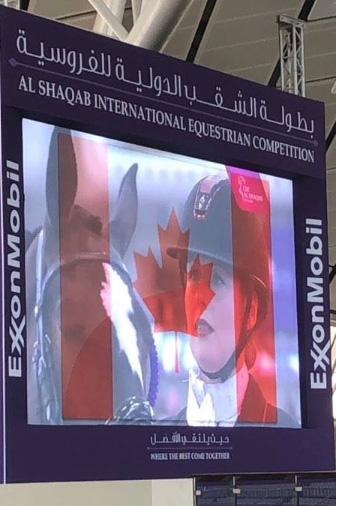 Sheffield is no stranger to international competition, having traveled from her home base in Lincolnshire, GBR, to horse shows across four continents.

"Travelling really adds a sense of occasion to competing," said Sheffield. "It takes a lot of organizing, but it is so inspiring to get to compete at some of the most beautiful, exotic locations in the world. I love the feeling of drama and anticipation that comes from big, shiny, atmospheric shows."

While Sheffield may be used to the jet-setting lifestyle, Wonky is slightly less worldly: she was only started under saddle three years ago, and had never previously stepped a hoof outside of the English border. Despite some initial concerns, Wonky passed her traveling test with flying colours.

"She was brilliant," exclaimed Sheffield. "That supersized brain of hers kicked in and she worked out how to stay calm, even when handled by strange people and while strange things were happening. Wonky arrived into the venue as the last horse unloaded from the last truck full of horses, and the transport guys said what an angel she had been."

The new experiences didn't stop there for Wonky, as each of the 980,000 square metres of the state-of-the-art Al Shaqab equestrian centre was filled with stimuli. Even for Sheffield, who had competed there in 2015 with her 2016 Rio Olympic Games partner, Double Agent, the atmosphere was larger than life.

"The show was even bigger than I remember it from last time, with national level show jumping and dressage happening, as well as top-level international competitions for those disciplines and 3* para-dressage," said Sheffield. "The atmosphere was so fun, bubbling, dynamic, and full of energy. They even held a €10,000 latte art competition one evening with lots of whooping and TV cameras!"

Surrounded by a tidal wave of unfamiliar sights and sounds, Sheffield and Wonky had a bit of a rocky start in the CPEDI 3* Grade III Team Competition on March 7, but regained composure to finish third in the following day's Individual Competition. By March 9, they were back in the swing of things and ready to rock the Freestyle.

"The music for my freestyle was compiled by Rich Neale for Bailaor XXXIII, the Spanish stallion that I competed in 2018," explained Sheffield. "I had to expand the floorplan on the fly in the test as Wonky covers much more ground than him, as she is a hand taller."

Sheffield's seamless improvisation earned a score of 70.167% from the judges and secured the win. She commented, "I'm so pleased that we managed to up our game for the final test. I had a good feeling that it was going to go well. Wonky warmed up in a great mental place, she had been becoming more settled and less green as the week progressed. She started the show rather shell-shocked by the atmosphere, but by the end she was loving the attention and candy that goes with performing at a big show."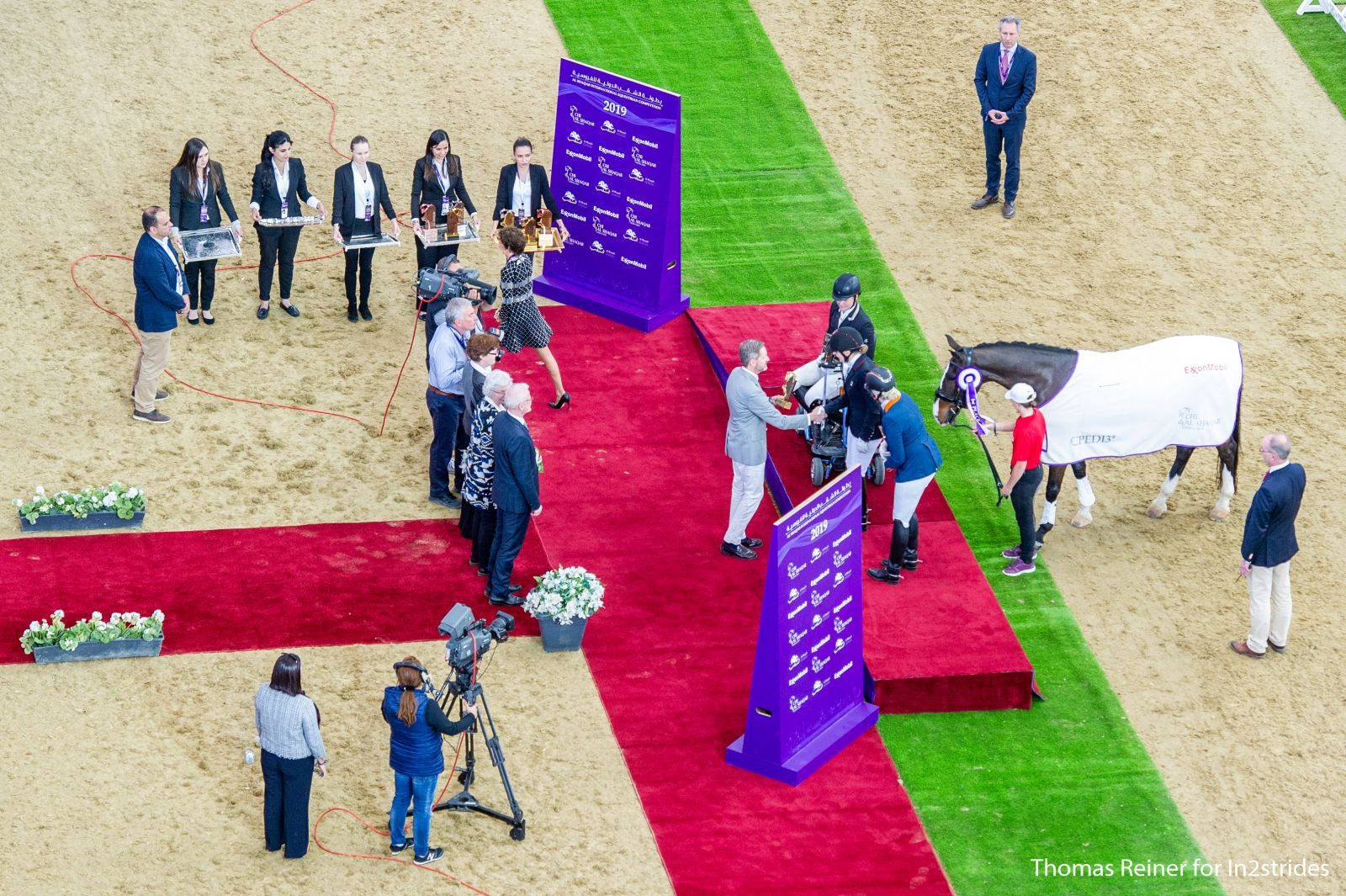 Sheffield and Fairuza adjusted to the bright lights of the Al Shaqab equestrian centre and won the Grade III Freestyle on March 9.
Photo Credit: ThomasReiner.pro for in2strides/Al Shaqab
With the hurdle of Wonky's first overseas competition successfully overcome, Sheffield is looking forward to the rest of the 2019 season. "This season is all about growing Wonky as an international horse, developing her knowledge and experience," she commented. "Wonky is a horse that inspires me all the time. She has this amazing intelligence that enables her to think and learn from situations. She has come a long way from the unhandled feral horse she was three years ago, but we still have a long way to go."

Featured Ads
Oro Medonte, Ontario, Canada
Oro Medonte, Ontario, Canada
Join our Mailing List!