Back
Lucy Deslauriers is Unbeatable in Québec Original Grand Prix
Young Lucy Deslauriers, on her mount Hester, excelled in the Québec Original Grand Prix on Sunday, July 24 at the end of the first week of the 2016 International Bromont where three countries were represented.
Expecting the best
Designed by renowned course designer Venezuelan Leopoldo Palacios, the course was very challenging. With 13 obstacles for 16 efforts, including a double combination as well as a triple, the course required the best from participating pairs. Time was definitely a factor with a time allowed of 82 seconds.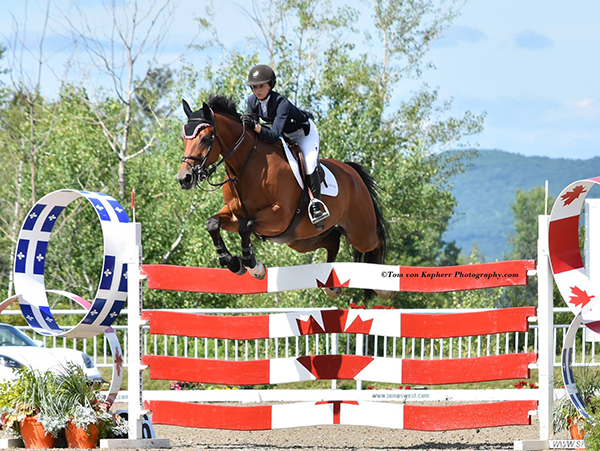 Lucy Deslauriers & Hester - photo by TetleyPhoto.com

Only a few beat the course
The course was technically difficult, especially with the famous triple combination in front of the VIP tent. Not until the eighth pair in the ring, that of François Lamontagne and Chanel du Calvaire, did we see a round without any bars down, however, a time fault is added still putting Lamontagne temporarily in first place. Andrew Kocher, who is having a great week at the International Bromont, gave it all he had with his horse Ciana, but a bar down at the last obstacle denies them the lead.
Lucy Deslauriers, second last and youngest rider in the class, demonstrate how talented she is with her mount Hester as she negotiates the course brilliantly. She is the only one to execute a clear round in the time allowed.
Canada's Susan Horn, came really close to force a jump-off with a clear round until the 12th obstacle, but a bar down and a few seconds over time put her in ninth place.
Lucy Deslauriers crowned
The young American rider has cumulated successes with Hester, winning the Friends of the Meadows U25 Cup event at the Pan American tournament earlier this month.
Events start again on Wednesday
The second week of the International Bromont will start on Wednesday July 27th, where the first leg of the East Coast Longines FEI World Cup Jumping North American League will take place.
About International Bromont
The International Bromont presents its 41st edition in the picturesque setting of the Bromont Olympic Equestrian Park, in the heart of the beautiful Eastern Townships region. For more information on the programming, please visit our Web site at www.internationalbromont.org .

International Bromont would like to thank the Ministère de l'Éducation, de l'Enseignement supérieur et de la Recherche as well as the Ministère du Tourisme du Québec for their support. General admission: $10 per person and free for children 12 and under. Preferred admission: $ 25 per ticket.
Results – Québec Original Grand Prix
1. Hester / Lucy Deslauriers (USA) 0, 78.53
2. Chanel du Calvaire / François Lamontagne (CAN) 1, 83.55
3. Entre Nous / Lauren Tisbo (USA) 4, 78.17
4. Hip Girl / Lauren Tisbo (USA) 4, 78.65
5. For Freedom Z / Keean White (CAN) 4, 78.37
6. Ciana / Andrew Kocher (USA) 4, 79.87
7. Serenade de Mai / David Arcand (CAN) 4, 80.28
8. Ischtar / Kevin Crosby (CAN) 4, 81.03
9. Black Berry / Laurie Bucci (CAN) 8, 79.85
10. Prof de la Roque / Andrew Kocher (USA) 8, 80.27
Featured Ads
Lansdowne, Ontario, Canada
Join our Mailing List!